Download the Troop 214 Scribe contract
here
.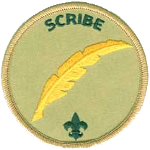 As Scribe of the Westark Area Council's Troop 214, I will be especially mindful of conducting myself by the Scout Oath, Scout Law, Scout Motto and Scout Slogan.
I will lead by example, and I make these commitments to my fellow Scouts, the Scoutmasters, and myself. I will:
I understand that I will receive FULL leadership credit if I follow the above stated commitments. I may only receive partial credit if the above commitments are not met.