Typically, a Patrol Leaders' Council (PLC) takes place on a Monday starting at 7:00 PM at a Scout's home. There is an exceptional PLC held during the summer camp for the weeks following the camp.
The following troop meeting items could be filled out by the Senior Patrol Leader before the PLC starts. This would allow focusing on the meetings' programs.
Meetings are planned with consideration of the upcoming camping trips/troop activities/service projects through the meeting immediately after the next PLC.
If you plan to attend a PLC, you can download and print the PLCNotes.pdf by clicking the following image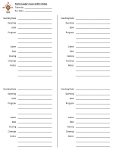 . This document might help you organize your notes.