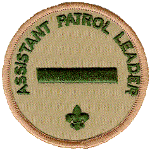 As Assistant Patrol Leader (APL) of the Westark Area Council's Troop 214, I will be especially mindful of conducting myself by the Scout Oath, Scout Law, Scout Motto and Scout Slogan.
I will lead by example, and I make these commitments to my fellow Scouts, the Scoutmasters, and myself. I will:
I understand that I am expected to follow the above stated commitments. I also understand that serving as Assistant Patrol Leader does not provide me with leadership credit for Star, Life, or Eagle rank advancement.